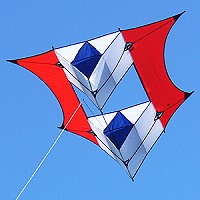 Size: 55" wingspan x 40"
Material: Rip-Stop Polyester & Glassfiber.
Skill Level: Novice - Expert
Flying Line: not included



The Becolino Box, with wings extended, is a great all round performer. With its' wings in the rolled position, it can handle strong gusty winds. The multi-cellular center section gives great stabilty in both flying modes.


click on images below for larger view



Wings open



Wings rolled