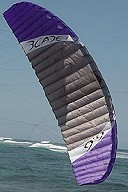 Fabric:- Blades are made with 3/4ozs. Chikara Rip-Stop Nylon fabric and have a sleeved Spectra fibre Bridle.
Flying Lines - 4:- Blades are primarily designed for kite traction. Kites come with a color-code 500/220lbs x 82ft Spectra Quad Line set. Pre-sleeved and pre-stretched. For kiteboarding, a minimum of 500lbs top lines over 220lbs bottom lines is suggested. If you are using a three/four line control bar, you will need both the Main/Top and the Bottom/Brake lines.
Flying Lines - 2:- Blades can be flown on two lines with a control bar, though there is a loss of power and steering is less effective. Especially in the larger sizes. To determine the strength of the lines you need, use the MAIN or TOP LINES recommendations.
In general, flying lines should be 75 feet long, but can be up to 120 feet long.
For Kiteboarding, top lines should be 500lbs and bottom lines 300lbs. Lines should be around 100 feet long for optimum performance. See Blade Tips for more information.




As with all sports equipment exposed to natural elements such as wind, sea water, dust, sand and sunlight, life expectancy varies. With heavy use in these conditions, Blade kites can be expected to remain operationally effective for a minimum of 2 years. Of course, with moderate use and care, this time period can be lengthened considerably. To optimize performance, it is suggested that equipment be updated and/or replaced routinely.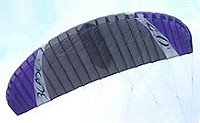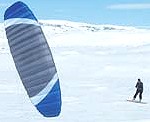 Each Blade kite comes in a sturdy carry-bag with instructions and either a pair of Control Handles or Control Bar. Flying Lines are also included.
Features like tapered wingplan, through venting and gradual wing cross section tapering toward the wing tips, make Blades very efficient traction kites in the hands of experienced flyers. The MkIII is now equiped with Velcro® sealed Wingtip Vents to allow easy removal of sand, snow or water, Internal Center Cross-Bracing to maintain a smoother wing profile and "Croc-Grips" for bridle stowage when the kite is packed away.Smaller sizes are intended for strong winds and the larger sizes for light wind conditions. The operating wind range of each Blade will largely depend on the flyers skill level with this type of kite.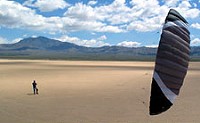 Blade flying:- Blades are efficient powerful traction kites suitable for experienced ram-air quad-line flyers with an understanding of the dynamics of this type of kite.
No matter what type of kite you use for Kite Traction, there are a number of things to remember when selecting the best size to start with. The kite to use will depend on the Surface; (Skis on snow or ice, Kite Buggy on soft or hard sand, grass or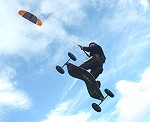 hard ground, or Kite Board on water), the Wind Speed; flyer Skill and Experience and flyer Weight. Whether the flyer is a novice or has a lot of Traction Kiting experience, the best choice is the smallest kite that will produce enough power to move. It is essential not to be overpowered, not just because it's obviously safer, but upwind travel will be easier and less power is easier to manage.Once you are confident that you can control the kite, then progress to Kite Buggy, Skis or Kite Board.



These kites produce considerable pull and are not suitable for inexperienced flyers. Always learn to control the kites before attempting kite traction activities. Sensible saftey precautions should be followed when flying these kites and protective clothing, especially sturdy shoes and a helmet should always be worn when using them for traction. A personal floatation device should always be worn when using these kites for any water related activitiy such as kite surfing. Read instructions and safety warnings in with every kite.