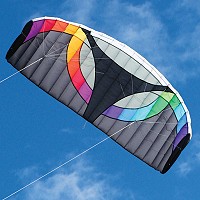 Material: Rip-Stop Nylon
Skill Level: Beginner - Expert
Flying Line: INCLUDED 100ft x 300lbs Dyneema.



The 84" wingspan Bulldog, by Into The Wind, packs a good punch for a recreational "soft" 2-Line ram-air aerofoil. The partially closed Leading Edge decreases air resistance and drag, resulting in faster flying speed. Packs into a durable carry-case with flying lines and padded flight straps.