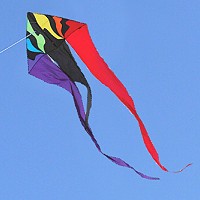 The Tri-Tail Delta has a wide wind
range. Simple to assemble
and easy to fly, with a
very flamboyant sky presence.


Size: 79" x 23ft tails
Material: Nylon with Glass/Carbon Fiber
Skill Level: Beginner - Expert
Flying Line: 90lbs suggested
The 6.5ft wingspan Flo-Tail Delta by Premier Kites creates a mesmerizing effect with its long flowing tails, which give visual impact as well as provide stability. Easy to assemble and get aloft. Our WOW! kite.