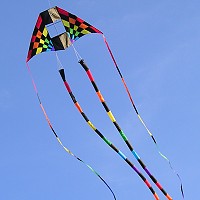 Shown with Tube Tails in center
and Streamers on Wing Tips.


Size: 90" x 37"
Material: Rip-Stop Nylon with Carbon Fiber Frame
Skill Level: Beginner - Expert
Flying Line: 90lbs suggested
The 7.5 Box Delta combines the lifting power of a Delta with the stability of a Box Kite. A steady flyer, especially when combined with either 24ft Tube Tails or 50ft flat Streamer Tails. Both Black
Rainbow fabric tails are a perfect match for the Rainbow Ray design. 4 tail connection tabs at spines and wingtips. Includes fabric carry-case.