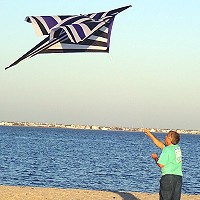 Size: 132" wide x 89" high
Material: Rip-Stop, Nylon with Glass Fiber Frame
Skill Level: Beginner - Expert
Flying Line: 150lbs - 200lbs suggested
Inspired by the shape of Hawk Moths, this unique Delta design flies at high angles and pulls lightly on the line for such a large kite. A real beauty in the air, itís a great light-wind flyer thatís quick to assemble. A delight to watch as it soars with fluttering wings. 47Ē long carry-case.


click on images for larger view