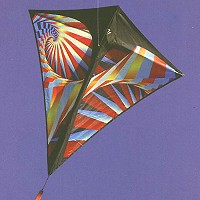 Radiance shown above.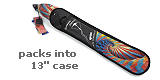 Size: 39" wingspan x 36" high
Material: Rip-Stop Polyester
Skill Level: Beginner - Expert
Flying Line: included
This 36" tall diamond folds into a pouch that's barely a foot long. Perfect for travel. Brilliant dye-sublimated geometric patterns on colorfast ripstop polyester create spectacular pieces of flying art. Pull out the kite from its' 13" case and let the rods spring into position. The spars are connected by bungee cord like a tent pole, so there's nothing to lose and no way to assemble it backwards. Comes with a 2-part matching tail, flying line and winder.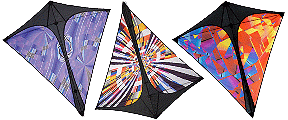 Purple Haze Super Nova Fusion