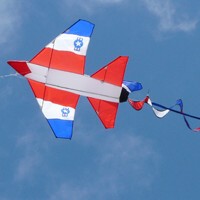 Size: 42" wingpan x 36"
Material: Rip-Stop Polyester & Glassfiber.
Skill Level: Novice - Expert
Flying Line: included

The F16 Fighter is an easy to assemble three dimensional kite made from Rip-Stop Nylon fabric with Fiberglass spars. This realistic design performs well in mid-range winds and is sure to please the aircraft enthusiast. The package includes 200ft of 55lbs Flying Line on a YoYo style winder.