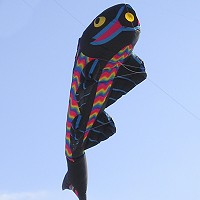 Wavy
click for larger image

Size: 22.5ft long x 5ft high
Material: Nylon fabric
Skill Level: Beginner - Expert
Flying Line: not included
This impressive Giant Fish is a great wind inflated creation from German designer Juergen Ebbinghaus. It will fly very well as a kite, with no "lifter" and gently swims back and forth above the ground. For a higher angle of flight, one or two Giant Fish can be suspended below a suitable "lifter" kite. This is one of the easiest inflatables we've flown and its' stable flight characteristics are very satisfying.