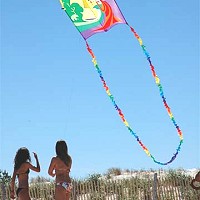 Size: 24ft long
Material: Rip-Stop Nylon.
Skill Level: Novice - Expert

The Fuzzy Tail is not only a great visual addition but an excellent stabilizer. The shaggy nature of these tails creates drag which helps to keep wayward kites on track. Use a one point attachment or loop between wing tips. Very useful for Kite Aerial Photography camera lifters where a stable kite is essential.



Rainbow

Patriotic