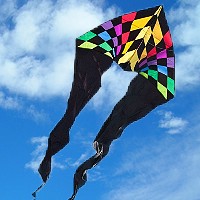 Shown with detachable twin tails.


Size: 181" x 91" - Over 30ft Tails
Material: Rip-Stop Nylon with Carbon Fibre Frame
Skill Level: Experienced - Expert
Flying Line: not included. 500lbs recommended.



This giant 15ft wingspan Jumbo Delta by HQ Invento is not only a striking kite, it's a stable laundry lifter too. Like all Delta kites, it is easy to assembly and fly, with no bridle to adjust. The included twin flowing tails are attached with Velcro and so can be removed for light wind flying. This is a strong pulling kite for experienced kite flyers.


click on image for larger view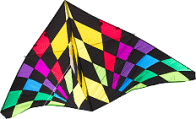 Dynamic