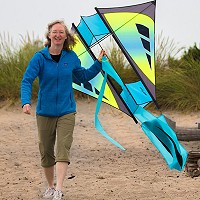 Mojito shown above.
see more

Size: 50" wingspan x 44" high
Material: Rip-Stop Polyester & Glassfiber.
Skill Level: Novice - Expert
Flying Line: 300ft x 50lbs included
The Prism Isotope is a 21st–century twist on the traditional French Military kite. The spectacular, flowing tail tames gusty winds and grabs attention from a long way away. Includes a hoop winder with braided polyester flying line to minimize tangles and a lightweight sleeve that lets you carry the kite rolled up at either full or half length.