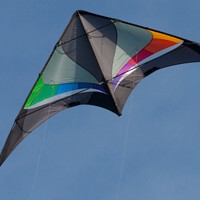 Size: 39 x 90 in.
Material: Rip-Stop Polyester/Carbon frame
Skill Level: Intermediate - Expert
Flying Line: INCLUDED
The Maestro II, by HQ Germany is in the class of "ultimate" free-style 2-line kites, a carefully crafted kite that will perform any trick. This update of the original Maestro, has many features that are a result of testing by a multi-person development team. Included balance weights make the Maestro II a sweet trickster.


Click on image below for more details.