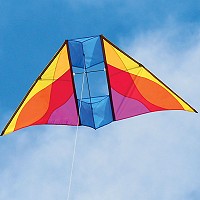 For greater visual effect add tails.


Size: 71" x 30"
Material: Rip-Stop Nylon with Glass Fiber Frame
Skill Level: Beginner - Expert
Flying Line: not included



The Mesa DC is the smallest version of this kite design from Into The Wind. The center triangular "box" section coupled with large wings, helps to maintain steady flight and allow this kite to perform well in unreliable fickle wind, as well as being rock stable in smooth air.