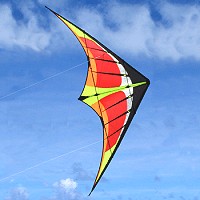 Size: 40 x 94 in.
Material: Rip-Stop Nylon with Carbon Fiber frame
Skill Level: Beginner - Expert
Flying Line: INCLUDED
Prism pushes the freestyle envelope with the Hypnotist. Likely to replace the older E2, this full-size 8 foot wingspan kite is the perfect vehicle to learn freestyle tricks. Same energy absorbing lower spine device as the Quantum. Includes "Freestyle Pilot" DVD, Spectra Flying Line and compact "designer" carry-case. The next step from the Quantum.


click on image to enlarge


Citrus
Yel/Lime/Gre


compact designer carry-case