Fabric:- The Neo is made from high quality Rip-Stop Nylon fabric with an equally high specification Dyneema (same as Spectra) Bridle.
Flying Lines:- Neo kites come complete with De-Power Carbon Composite Control Bar, pre-stretched Dyneema (same as Spectra) flying lines and detailed user manual. Line sets are 1,500/600 lbs x 72ft Dyneena. The De-Power feature changes the kites angle of attack, effectively controlling its speed and power output. Take a look at the HQ De-Powerable Kite User Manual in PDF format for more details.




As with all sports equipment exposed to natural elements such as wind, sea water, dust, sand and sunlight, life expectancy varies. With heavy use in these conditions, Access kites can be expected to remain operationally effective for a minimum of 2 years. Of course, with moderate use and care, this time period can be lengthened considerably. To optimize performance, it is suggested that equipment be updated and/or replaced routinely.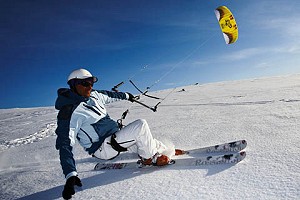 The Neo is a kite for intermediate to advanced riders. As a crossover de-powerable ram-air 'foil, it's suitable for land, snow and water. This kite can be used for Snow Kiting, Kite LandBording and KiteBoarding on water. Not suitable for Kite Buggying. Smaller sizes are intended for strong winds and the larger sizes for light wind conditions, though the operating range of each Neo will largely depend on the flyers skill level with this type of kite. Among the many Neo features are; Insane turning speed, Easy water relaunch, High stability, Extreme lift and hang time, Drag reducing Y-shape front lines, Internal drainage system and dirt outs, De-power speed system, Double stitched seams with Dacron reinforced profiles, Composite de-power control bar.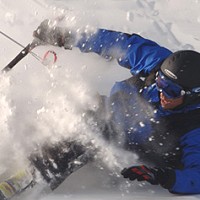 Getting started:- When Traction Kiting, select a size that fits your ability and prevailing wind conditions. No matter what type of kite you use for Kite Traction, there are a number of things to remember when selecting the best size to start with. Your choice will depend on the Surface; (Skis on snow or ice, Kite Buggy on soft or hard sand, grass or hard ground), the Wind Speed, Flyer Skill and Experience and Flyer Weight. Whether the flyer is a novice or has a lot of Traction Kiting experience, the best choice is the smallest kite that will produce enough power to move. It is essential not to be overpowered, not just because it's obviously safer, but upwind travel will be easier and less power is easier to manage. A mid-size kite is ideal to get familiar with control on solid ground in a modest steady wind. Once you are confident that you can control the kite, then progress to Skis, SnowBoard, Land Board or KiteBoard.