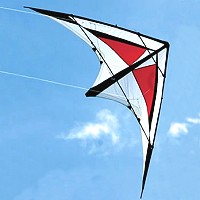 Size: 34 x 76 in.
Material: Rip-Stop Polyester
Skill Level: Intermediate - Expert
Flying Line: INCLUDED
Created by Jon Trennephol and Wayne Brunjes, the Nighthawk is a master trick flyer. For its' three quarter size, it has a great wind range with many design innovations. "YoYo" Stoppers and sheilded Leading Edge fittings make this kite a blast to fly. A new kite for 2005 from this progressive design team. Complete "RTF" with carry-bag.