Get the Flash Player to see this player.
Fly at night by adding these great Flashing LED clip-on lights to your kite. Powered by 2 x CR1632 batteries (included) these super bright 3 x LED flashers clip easily to a kite, or best of all, the flying line. Send these flashing beacons into night sky and wait for the UFO comments.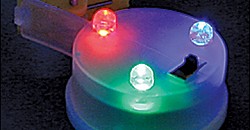 Great for many kites, including the Large Easy Fly Delta shown below. Clip-on Flashing LED lights are 1.25" x .75", weigh less than 1/2 oz. and come with two replaceable CR1632 batteries. Clip to kite or Flying Line.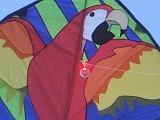 Single clip-on suitable for kite around 3ft wingspan and up. Larger kites will be able to lift multiple clip-on lights depending on wind speed.