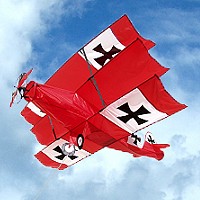 Size: 41" x 40"
Material: Rip-Stop Nylon & Glassfiber.
Skill Level: Novice - Expert
Flying Line: included
The Red Baron Tri-Plane is a three dimensional kite that is based on the famous World War I fighter. Made from Rip-Stop Nylon with Fiberglass spars, this striking flier requires some pre-assembly prior to take off. In the air, the three feet long helix tail helps with stability while the spinning propeller adds to the effect of flying into the "wild Blue yonder". Complete with 30lbs Flying Line.