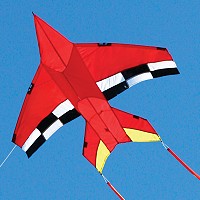 Great carry-case included


Size: 49" wingpan x 46" with 5ft tails
Material: Rip-Stop Nylon & Glassfiber frame.
Skill Level: Novice - Expert
Flying Line: included

This sleek jet is powered by the wind. Based on a Delta kite with a tunnel keel, it's a stable flier that's great for beginners of all ages. Made of ripstop Nylon with Glassfiber spars, the Red Racer has twin 5ft. streamer tails. It's ready to fly, with included 300ft of 50lbs. flying line, right out of the 42" carry-case.