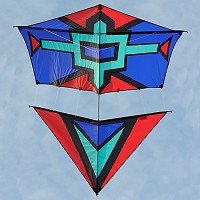 Size: 78" wingspan x 90" long.
Material: Rip-Stop Nylon with Carbon Fibre Frame
Skill Level: Novice - Expert
Flying Line: 150lbs suggested
This Hespeler Brothers Roller is an excellent light wind flyer. Stable with a high angle of flight, this is a "kite fliers" kite. In those light breezes, the Roller can be worked high into the sky to capture the steadier air aloft. Includes Banner Tail stabilizer for added stability in fickle winds.