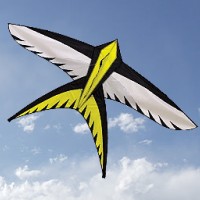 Size: 77" wingspan x 45"
Material: Rip-Stop Nylon & Glassfiber.
Skill Level: Novice - Expert
Flying Line: included

This unusual and strking bird kite sports a GlassFibre Frame and durable Rip-Stop Nylon sail. A graceful and realistic flyer that mimics the soaring flight of lone Sea Birds. Comes with starter Flying Line.