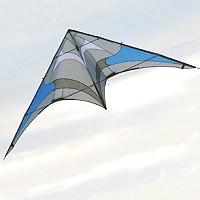 All kites include adjustable carry-case and instructions. Line available separately.

Size: 36" x 98" wingspan
Material: Rip-Stop Polyester with Carbon Spars
Skill Level: Intermediate - Expert
Flying Line: NOT INCLUDED



A wrapped Carbon Fiber frame, Polyester with Mylar Sail, Weight System and easy-adjust Bridle, equips the Silver Fox with everything a pro kite flyer is looking for. From Bell Chiu, designer of the Acrobatx, the Silver Fox is definitely a kite for the pilot seeking high performance at a premium price.


click on image for larger view



Purple - std
3-20 MPH

sold out