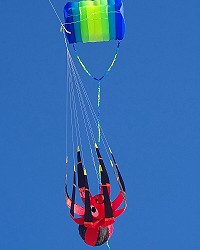 Size: 36" diam. x 6ft.
Material: Rip-Stop Nylon
Skill Level: Beginner - Expert



Designed by Ray & Jeanne Merry, this friendly creature beckons curious onlookers for a closer look as it playfully dances in the wind. With its 3-D body and eight long legs, this harmless arachnid is enticing and sure to make everyone smile. Needs a 9-ft Delta or Ultrafoil 15 for lift.