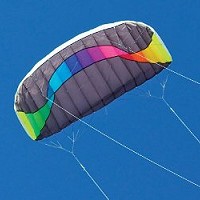 Size: 27 x 72 in. wingspan
Material: Rip-Stop Nylon
Skill Level: Some Experience - Expert
Flying Line: INCLUDED



Four-line total control at a great price. Forward, reverse and pivot turns are easy with the SunDog. Controlled by pulling or pivoting the handles, this kite is a natural for two-line fliers wanting to master four-line flying. A very efficient and surprisingly stable kite in low winds. Fast and responsive for recreational flying, it can pull a lot for its size as the wind picks up. 10" x 11" heavy duty carry-case.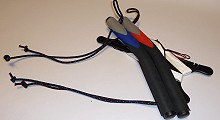 Includes Line & Handles