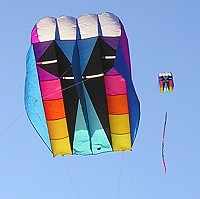 Simple bridle and no frame.
click for more images


Size: 45 x 28 in. - 9 sq. ft.
Material: Rip-Stop Nylon
Skill Level: Beginner - Expert
Flying Line: Includes 300ft x 80lbs Flying Line.



The UltraFoil 9 is a new ram-air from Jeanne & Ray Merry. Great wind range and super stable. Lower surface vents aid in initial inflation and upper vents relieve pressure. The dynamic trailing edge vent releases a stabilizing jet of air to combat stronger winds. A high angle flier with good, consistent pull, it's perfect for Kite Aerial Photography and Line Laundry. Includes matching Fringe Tail, 80lb Flying Line and 8" x 13" carry-case.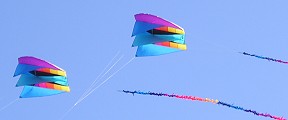 Sedona