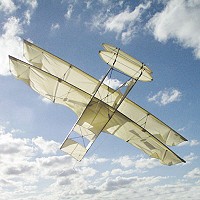 Size: 46" x 24"
Material: Rip-Stop Polyester & Glassfiber.
Skill Level: Novice - Expert
Flying Line: included

This Rip-Stop Polyester and Glassfiber replica of the Wright Flyer recreates the machine that heralded the dawn of free flight. Much of the Wright brothers experimentation was with kites before they made their historic breakthrough. Repeat their early flights, much as the Wrights' did, with a tethered flight of one of the first and maybe the most famous, powered flying machines. Complete with Flying Line.